Bungee Run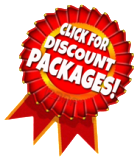 33' L x 11' W x 8' H.
Good for active kids and adults!
Two contestants try to see who can
run farther before being pulled back
by the bungee cord. The cords are
fastened to a harness that is
worn around the waist.
Overnight rental for your backyard.
(Setup on day of party and
pickup the following day.)
All day rental for parks.