Gigantic Pirate Ship Combo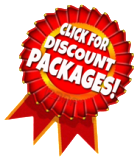 Avast, Buccaneers!
This pirate-themed jumper combines a bounce house, climbing wall and inflatable slide into a pirate ship. The large jumper offers a climb & slide and plenty of room to jump up over the Captain's wheel, or up to the sails. Three-dimensional masts, and a colorful theme that will please every would-be sailor. Suitable for school carnivals and other large-scale events.
The Pirate Ship is 34 feet long and weighs over 500 pounds. Please make sure your location can accommodate the ship and our delivery truck.
Dimensions: 34'L x 19′ 9″W x 17′ 10H
Overnight rental for your backyard.
(Setup on day of party and
pickup the following day.)
All day rental for parks.