Trackless Train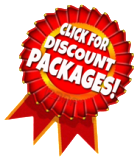 The trackless train is perfect for
young and old alike. It seats 10-14 people.
Good for ages one through adult. All ages
can ride together.
Setup Requirements: The train requires a flat surface, and can be driven on the sidewalk, in a parking lot or other hard surface. Train measures 8 feet 4 inches in length and can pass through a gate 4 feet wide or wider.
Gas powered. Operator provided.