Chopperville Tiny Tots Playground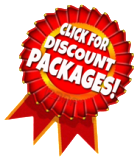 16' L x 19' W x 8' H.
Great for tiny tots. The helicopter with
the twirling top! Features a ball pond,
safari jeep, teepee and soft play
learning activities.
Overnight rental for your backyard.
(Setup on day of party and pickup
the following day.)
All day rental for parks.